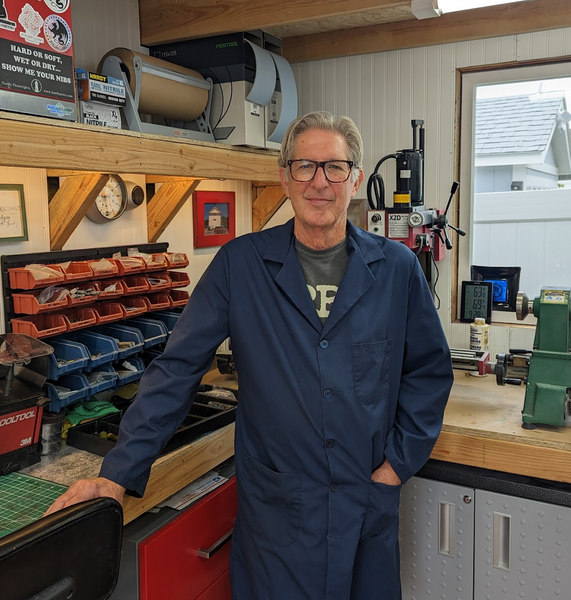 Welcome to Atelier Lusso
Greetings, everyone! My name is Eric Sands, and I am the founder and owner of Atelier Lusso. I am based in sunny Southern California, where I handcraft high-quality fountain pens that are both beautiful and functional.

Every Atelier Lusso pen is created with exceptional care and attention to detail, resulting in a unique writing experience that you won't find elsewhere. I take great pride in crafting every pen myself, ensuring that each one is a masterpiece that you'll treasure for years to come.
Testimonials
"Remember
that Jack Nicholson romcom line, 'You make me want to be a better man?'
Well this magnificent pen is a work of art. Whenever I pick it up
and feel the ink flow like silk onto the page, I think, 'You make me want
to be a better writer.' It just may work. Pure joy to behold and hold."


Alison Hawthorne Deming (recipient of a Wallace Stegner Fellowship, a Guggenheim Fellowship, a National Endowment for the Arts Poetry Fellowship, the Walt Whitman Award, The Pablo Neruda Prize, the Bayer Award for Science Writing, a Pushcart Prize, and several others. She is Professor Emeritus from University of Arizona, the former Director of the world renowned University of Arizona Poetry Center, and a current Borchard Foundation Center on Literary Arts Fellow.)
"It's such a gorgeous instrument, I
hardly dare pick it up -- and then I do, and it fits into my hand like we've
known each other all our lives."

Rita Dove (author of more than a dozen books, the former Poet Laureate of the United States, recipient of gold medal in poetry American Academy of Arts and Letters (the highest achievement offered by the academy), the National Humanities medal (conferred by President Clinton) and National Medal of Arts (conferred by Obama), a Pulitzer Prize, and no fewer than twenty-nine honorary doctorate degrees. She is a member of the inaugural cohort of Borchard Foundation Center on Literary Arts Fellowship recipients.)
"Superior
tools carry with them a weight both tangible and intangible. The writing
instrument presented to me by the Borchard Center on Literary Arts, an
instrument handmade by Eric Sands, is just such a tool. In the hand it feels
important, as if the words that glide from its nib will be somehow better,
stronger, fresher, newer than anything to come before. Needless to say, I love
it."

Christian Kiefer (the author of four novels: The Infinite Tides, The Animals, Phantoms, and the forthcoming The Heart Of It All. The recipient of a Pushcart Prize among other awards, Kiefer holds a PhD from University of California, Davis and directs the low-residency MFA program at Ashland University. He is a member of the inaguaral cohort of Borchard Foundation Center on Literary Arts Fellowship recipients.)
"It's a lovely fountain
pen. It flows as naturally and powerfully as a river, while yet staying within
its banks. What could please a writer more?"

Yann Martel (author of Life of Pi, which won The Booker Prize, became the $600 million international Hollywood blockbuster and is currently a Broadway play. He's also the author of The High Mountains of Portugal.)
Thank you, Eric.  I own over 70 fountain pens, most of high quality (Duponts, Caran d'Ache and the like), even a David Oscarson.  But, and I am being honest here (I'm a Presbyterian pastor, after all!) it is the pen you made for me that draws the biggest response from my co-workers, fellow pen-lovers, and friends!

Bill Seel
Award Winning Pens
Atelier Lusso has received the Pen World Magazine Reader's Choice Award for Best Artisan Pen in 2022!
Menu & Pricing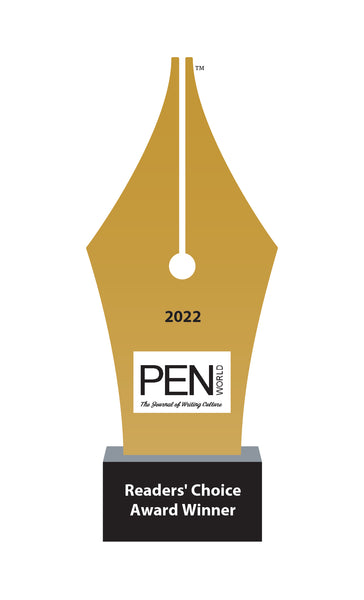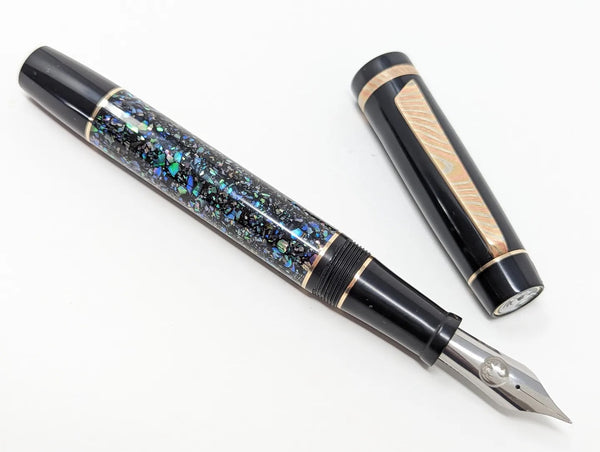 Quality Design, Quality Materials
Whether its a rare vintage celluloid or a modern marvel, I work with the best materials available so that your pen will be beautiful and durable for decades to come. (The image shows a Perseus pen in Mexican Abalone with accents in Tortoise resin)
About Atelier Lusso
The Origin Of the Name
People ask me about the meaning of my company name, Atelier Lusso… Its simple but requires a bit of an explanation. The first part is easy, Atelier is a French word that means a home studio, like an artists loft. I do all my work out of a studio attached to my home in Southern California. The second part is Lusso and is an Italian word that means luxury. I feel that having a hand crafted, bespoke fountain pen is a genuine luxury, and one that many fountain pen lovers aspire to, but the word also has a special meaning just to me.
When I was an impressionable 16 years old, my father took me to look at, and drive, a 1964 Ferrari 250 Lusso Coupe. The car was only 4 years old at that point and was available at a very reasonable price. Seeing and riding in that car changed my life. I had inherited my father's love of cars, but when I saw this car I realized that it was the most beautiful thing I had ever seen, and riding it, with that amazing V12 engine singing through all those carburetors, provided a near religious experience. To this day the Lusso Coupe is my lifelong ideal of both great design and engineering working together, and this is why I chose to name my Atelier after it.
I hope you will appreciate the passion that I put into my pens, the same passion that nearly overwhelmed me as a teenager experiencing this ideal of industrial art and design.
As an epilogue to the story, my father didn't buy that Ferrari, even though I prayed that he would, as he found his ideal car that day as well. Sitting in the showroom was a light metallic blue Ferrari Superfast with a white leather interior. That was the car he fell in love with, but unfortunately, couldn't afford.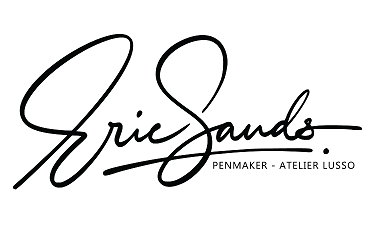 Follow AtelierLusso on Instagram!
Click on the pics below to access the feed directly